Microsoft Teams is a popular collaboration platform and chat application developed by Microsoft. The software was first introduced in 2017 and has been an integral part of Microsoft 365 ever since.
Microsoft Teams enables users to collaborate, communicate and share information online. The application has become very popular in recent years and is used by companies, educational institutions and organizations worldwide.
Advantages and application in an industrial context
Production is an area in which smooth communication and collaboration are of crucial importance. The integration of Microsoft Teams into the production environment can therefore have many advantages:
Real-time communication: The application enables fast and effective communication (e.g. via chat or video) between employees in the factory. This is particularly useful when solving problems and coordinating tasks.
Integration of OT/IT systems: The application can be integrated into various other Microsoft and third-party applications. i-flow can also be used to integrate production systems incl. relevant software to MS Teams.
Channels and team structure: The team structure in Microsoft Teams can be set up analogous to the factory organization in order to optimize communication between production lines and factories. Each channel can be geared towards a specific responsibility (e.g. shift supervisor) or a specific topic (e.g. shift handover).
Troubleshooting and support: The application enables communication with support and maintenance teams. Employees can report problems, make requests and receive support to minimize downtime.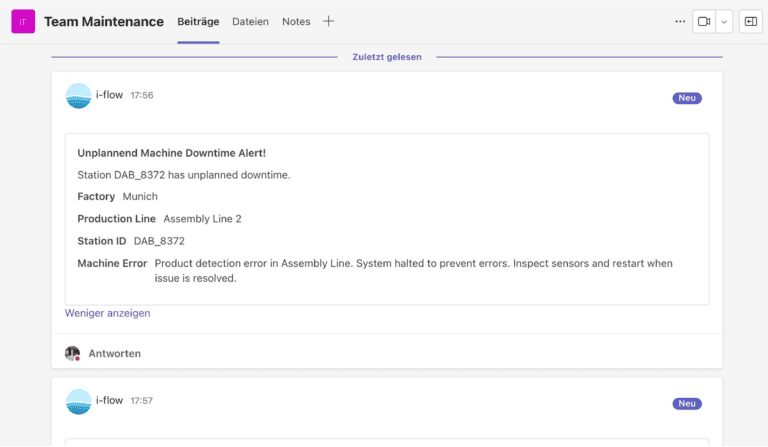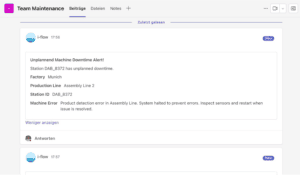 i-flow and Microsoft Teams
In production, quick reactions to machine downtimes and problems are of crucial importance. Using i-flow, automatic notifications can be sent to the responsible personnel via Teams in the event of deviations in the production process. i-flow provides the interface and is the link between production systems and Microsoft Teams.
i-flow harmonizes and structures data from different sources to ensure that all team members have up-to-date and accurate information. This can ensure the availability of skilled staff to resolve problems quickly and minimize downtime. In addition, i-flow users can be notified via Microsoft Teams if there are deviations in the i-flow resources (e.g. data flows). This ensures a rapid response and problem solving.