Siemens S7, or SIMATIC S7, is a widely used control platform. The S7 family includes a wide range of control systems, from compact PLC controllers to powerful industrial controllers. The control system is characterized by reliability, flexibility and a high level of functionality.
It is precisely these advantages that make the controller a popular choice for the control and automation of manufacturing processes. The controllers are usually programmed using special software, such as STEP 7 (Siemens Totally Integrated Automation Portal).
The advantages
Variety of control systems: Siemens S7 offers a wide range of control systems, from small and compact PLCs (programmable logic controllers) to powerful industrial controllers. These are designed to handle various tasks in automation technology.
Flexibility: The control platform is extremely flexible and can be adapted to the requirements of different industries and applications. This also includes the ability to add extension modules to provide additional functionality.
Reliability and robustness: Siemens S7 controllers are designed for use in industrial environments and are characterized by their high reliability and robustness. They are designed to work continuously even under demanding conditions.
Highly complex tasks: S7 controllers are capable of handling highly complex tasks. This includes the control of machines, processes and production facilities.
i-flow and Siemens S7
However, integrating Siemens S7 controllers into existing automation systems can be a complex task. Different protocols, data formats and data models can make smooth communication between different control systems difficult.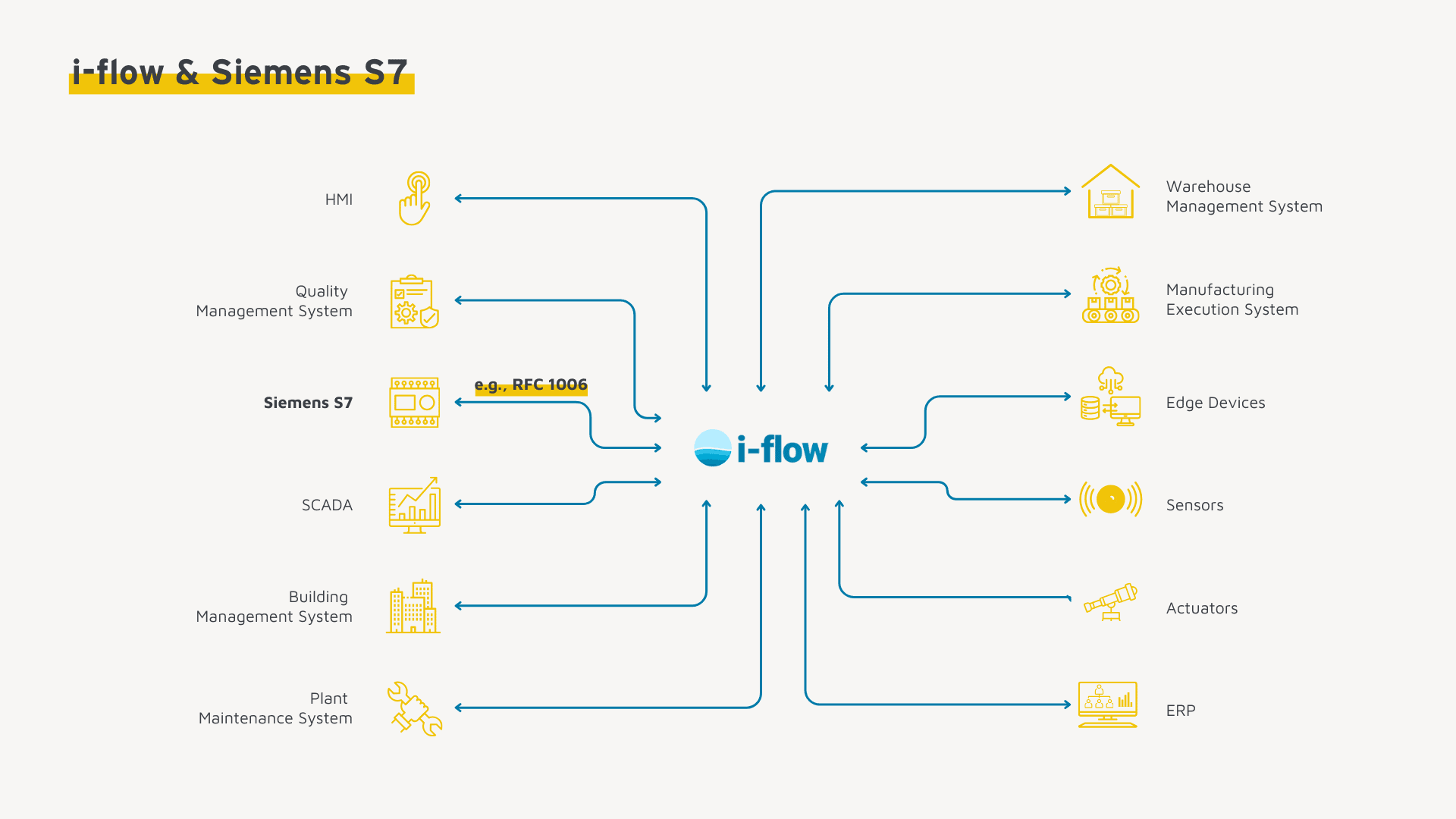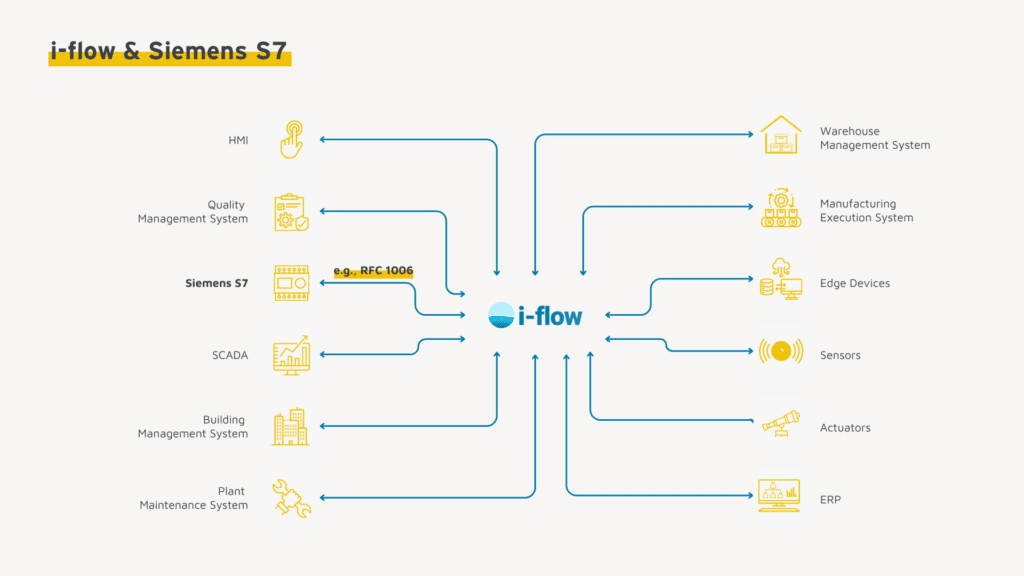 This is where i-flow comes into play. With i-flow, you can seamlessly integrate the S7 controller into your existing automation environment and benefit from a wide range of advantages:
Interoperability: i-flow enables communication between different control systems and technologies, including the Siemens S7 controller. This interoperability ensures that machines and systems from different manufacturers can communicate smoothly with each other.
Data conversion: Not all systems in a factory use the same data format and data model. i-flow can convert data from the Siemens S7 controller into a standardized format to simplify integration and data analysis.
Edge analytics: Large amounts of data are generated in modern factories. i-flow enables optimized processing and analysis of this data in edge and cloud environments to provide real-time insights and automation capabilities.
Data integration: Data formatted with i-flow can be easily forwarded to downstream business systems such as ERP (Enterprise Resource Planning) or MES (Manufacturing Execution System).